On Tuesday, December 10th, the four-year anniversary of the signing of the Every Student Succeeds Act (ESSA), the Collaborative for Student Success and Education Week convened a summit in Washington, D.C., with the law's Congressional co-authors, policymakers, education experts, and other stakeholders. The purpose was to review the marquee federal education law's implementation and identify challenges and opportunities as ESSA is put into practice across the nation.
As noted by Collaborative for Student Success Executive Director Jim Cowen in his opening remarks, ESSA returned much—but not all—of the reigns of education policy to the states. Since its passage, and in the context of lighter federal oversight of state education policy, the Collaborative for Student Success has been closely monitoring how faithfully states are implementing the law and proactively communicating our findings to the education community – with a focus on transparency, the important conversations with diverse stakeholders driven by ESSA, and the need for an ongoing commitment to high standards and expectations. This event served as a culmination of these efforts.
We are particularly concerned with questions of equity, as education policy in the United States goes beyond reading, writing, and math instruction – the right to a quality education is a civil right. Through ESSA, we are working to encourage states and stakeholders to engage with education policy in ways that ensure and reinforce that in America's schools, every student—including those from historically underserved communities of all races, ethnicities, and backgrounds and students with disabilities and English language learners—receives an equitable and quality education.
We have an opportunity and a responsibility to look at this juncture at what is working, where we see real challenges, and where we can support states and districts to close achievement gaps and improve schools.
More information and resources will be forthcoming but be sure to check out a recap of the day on Capitol Hill below.
Keynote Lunch With ESSA's Congressional Authors
The highlight of the summit was a Keynote Lunch with Senator Lamar Alexander, (R-TN), Congressman Bobby Scott, (D-VA), and former Congressman John Kline (R-MN)—three of ESSA's primary authors—which was moderated by Education Week's Alyson Klein. The panel discussed the challenges they faced in getting the law passed, how they overcame them, and how they feel about the final product. They were also in considerable agreement that the deep-seated animosity towards No Child Left Behind was a major driver of the need for and passage of ESSA, as well as that the law is likely to govern education policy for the foreseeable future.
"I think this is likely to be the framework of federal education policy for some time to come," said Senator Alexander, before he noted that: "Once states really understand how flexible ESSA is, I think you'll see states making more changes and being more innovative."
And all hailed the hard work of bipartisanship—and the trust and patience involved—as critical to their success, as well as the law's focus on civil rights and achievement gaps. "One of the things I'm most proud of is maintaining the civil rights legacy" of previous bills in ESSA, noted Congressman Scott. All was not comity, however, as the panelists disagreed as to the efficacy of the Trump Administration's implementation of the law, as well as the proper role of federal oversight of state education policy. However, as Congressman Kline noted, had ESSA contained more explicit federal oversight, the law might not have passed due to Republican resistance.
"We can't get exactly what we want. Useful for all of us in this room to remember that," Kline said. "If you actually want a law passed, you need to compromise."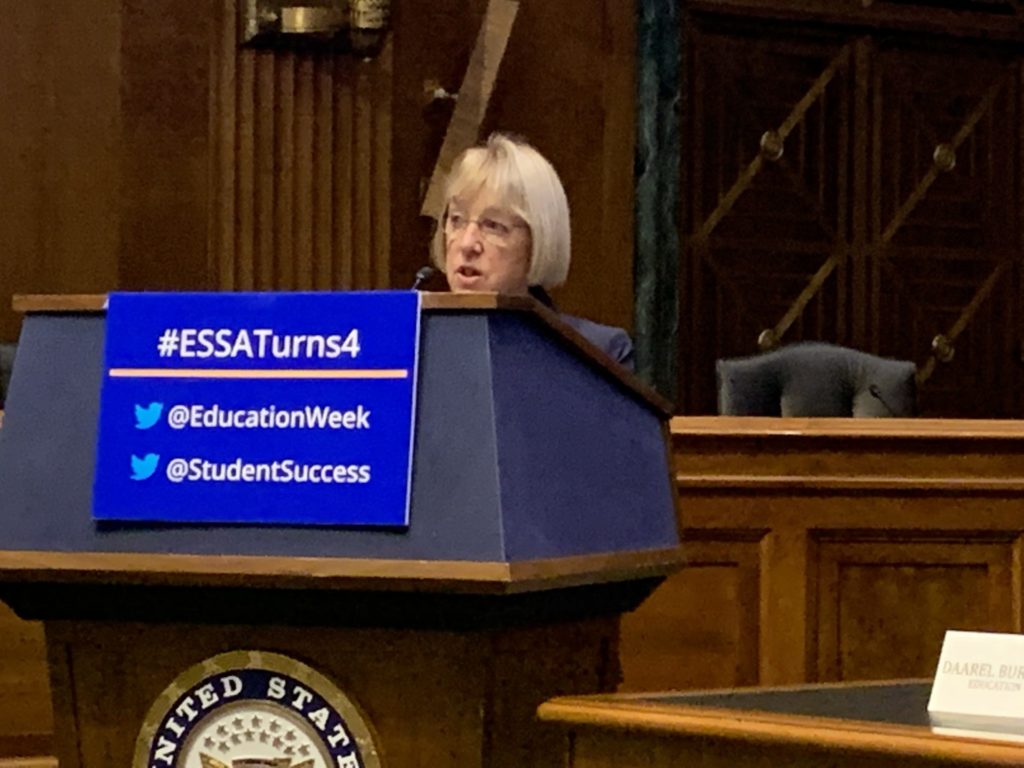 Later on, we heard from another one of ESSA's key authors, Sen. Patty Murray (D-Wash.). Murray acknowledged the positive work done by Alexander, Scott, and Kline to get the law passed, and said she was proud to have played a key role in producing legislation with the aim to make sure every student gets a good education. However, she said,
"Just because we pass a law, doesn't mean our work is done," noting that "flexibility and accountability is the key to making sure states can create tailored environments while also making sure all students get what they need to succeed."
School Improvement and Equity
Dr. Caitlin Scott, Research Director at the Learning Policy Institute, opened the discussion on school improvement and equity with a quick update on the status of implementation of state ESSA plans – specifically calling out the ways in which some states lived up to the spirit of the law's vision for flexibility and equity.
Panelists approached the topic of state ESSA plans from diverse perspectives, guided by broad questioning from Education Week's Andrew Ujifusa. Susie Feliz of the National Urban League focused in on the critical roles that financial transparency and reporting of per-pupil expenditures play in identifying disparities impacting educational equity.
Attention was brought to bright spots in policies and practices that directly impact students with disabilities, as Lindsay Jones of the National Center for Learning Disabilities discussed their 2018 review of 50 state plans. Building on the topics of ESSA implementation, state plans, and focusing attention on historically underserved student groups, NEA's Becky Pringle called attention to the unique challenges in education that occur for students and families at the intersection of race, ability, socioeconomic status, and language – and the overarching truth that money, and how it is distributed, matters in education. The Country Music Awards Foundation's Mendell Grinter cemented the conversation around funding, the role that student data plays in identifying and rectifying disparities, and the inclusion of music education as part of a "well-rounded" education as defined by ESSA.
Overall, the conversation was confirmation of the flexibility that ESSA granted to states to develop their own school improvement plans with input from their communities, leaders, and stakeholders and highlighted how financial transparency, funding, and equity will be formative topics in education moving forward.
As Dale Chu, Senior Visiting Fellow at the Thomas B. Fordham Institute and primary author of the Testing 1-2-3 Blog, set the stage for the day's discussion on assessment, he noted, "If you think about standardized tests, depending on where you draw the line, you can trace it back thousands of years." Amid common remonstrance on over-testing, Chu also highlights that "The actual time spent, kids taking tests, works out to about 2%" and the fact that, if a worthy end product of assessments were metaphorically compared to a high definition television, our current models might be most comparable to the black and white TV of times past. All in all, Chu prefaced the panel with the benefits of high-quality, standards-aligned assessments, but applauded efforts to innovate assessment models to better serve goals for high achievement in education.
Diving into the panel, Evie Blad of Education Week moderated a thoughtful discussion between two perspectives that often work in tandem – and sometimes at odds – in the difficult process of developing statewide assessment systems. North Dakota's Superintendent of Public Instruction Kirsten Baesler provided a detailed portrait of the factors state departments of education must consider in adopting – or working to create – assessment models, and how states succeed or fall short of addressing diverse needs unique to their communities and realities. Despite the many factors to consider, Baesler states, "Bottom line: parents want to know how their students are doing."
Offering a ground-level view on assessments, Amanda Aragon of non-profit advocacy organization NewMexicoKidsCan expressed the frustration that educators, families, and communities can feel when politics play an over-sized role in a state's process. "At the end of the day, states and districts need to be held accountable," she stated as she made a clear point that parents should have accessible, clear information on their students' performance and not have to navigate the complexities of politically driven system changes.
Immediately following the panel discussion, three Ignite presentations highlighted the perspectives of major assessment developers – and how these companies approach the topic of assessment and how best to work closely with state departments and school districts. NWEA's Chris Minnich highlighted the innovative assessment model of "through-year" tests. Stephen Murphy of Cognia considered the necessary components of a balanced assessment model from their work as an active accreditor, certifier, and assessment provider. And finally, Rob Waldron of Curriculum Associates cautioned against the confusion of interim and summative assessments and sought to clearly define the benefits of each.
Military-Connected Students
Former Congressman from Minnesota John Kline framed the day's discussion on the education of military-connected students with a personal note that recalled his time as a lawmaker and military service member with children. For him, the consideration of military-connected students – and the inclusion of the Military Student Identifier as a reporting requirement in the Every Student Succeeds Act – is of personal value.
Education Week's Daarel Burnette built on Congressman Kline's remarks by guiding the panel through a conversation around the direct impact that a quality education has, not only a singular military family, but on the status of military readiness for our nation more broadly.
Christi Ham, Chairwoman of Military Families for High Standards, detailed the challenging experiences related to the many transitions military service members and their children must often make – and the difficulty that comes with inconsistent standards, varying assessment models, and uneven resources across moves. From a high-level perspective, Ham noted that, because the roughly 1% of the population that serves in the military often produces the next 1% of military service members (i.e. children of military service members often follow that path of service), the education of military children is of distinct importance.
Lexington Institute's Doug Mesecar provided the enriching context behind the Military Student Identifier and highlighted the ways that data, when collected and used appropriately, can directly correlate to improved access, resources, and outcomes for students. Addressing the ever-present theme of frustration with the infamous No Child Left Behind law, the predecessor to ESSA, Mesecar stated, "I would say that one of the positive legacies from No Child Left Behind is the data and the focus on using it to inform instruction and make better decisions." With the Military Student Identifier, the focus on data works directly to benefit military-connected students.
The discussion was balanced by the perspective of Dr. Jerrod Wheeler, Superintendent of Knob Noster Public Schools in Missouri, which at times sees up to 70% of its student population being military-connected as a result of the proximity to Whiteman Air Force Base. Dr. Wheeler provided a concise, yet extremely relevant, description of the value behind the Military Student Identifier: "We know that what gets measured, gets done."
The final, highly-anticipated panel of the day focused on a hot topic facing schools, districts, and states – and one that has garnered keen attention by many education stakeholders and advocates: financial transparency and reporting of per-pupil expenditures.
Dr. Marguerite Roza, research professor and Director of the Edunomics Lab at Georgetown University, prefaced the panel with a look at how well states are meeting the requirements established in ESSA to report per-pupil expenditures. In her analysis, she notes that, "Districts are anxious. Engaging with school spending data is new for many district and school leaders." Despite that fact, she stresses, "School-by-school spending data can be used to drive equity and ultimately help systems leverage limited dollars to do the most for schools."
The Education Trust's Vice President for P-12 Policy, Practice, and Research Ary Amerikaner painted a wanting picture, "The thing I have found is that of those 21 states that have published their data [on Edunomics], one has done it in an exceptional way." Understanding the scale of the endeavor, however, Amerikaner notes, "There are inequities at every level. Inequities within states and between districts. But we are making progress."
Some of that progress was highlighted by the Chancellor for D.C. Public Schools Dr. Lewis Ferebee, who attributed some of the success being observed in the District to the fact that "…part of our budget process includes a narrative of how our resources are allocated and spent." This inclusion of resource allocation and reporting has helped D.C. become "the fastest improving urban district in the nation."
Offering an even more localized perspective, Principal of the Hidden Oaks K-8 School in Lake Worth, Florida, Shari Bremekamp presented how access to per-pupil data has empowered her as a school leader. "I've learned from my time that being prepared and seeing what I have financially in my building gives me more leverage to speak to district leaders and ask [for the resources we need.]"
All panelists, along with moderator Daarel Burnette, focused intently on the need for spending data to be accessible to community members, policymakers, and, particularly, parents and families.
Closing Remarks With Former Delaware Governor Jack Markell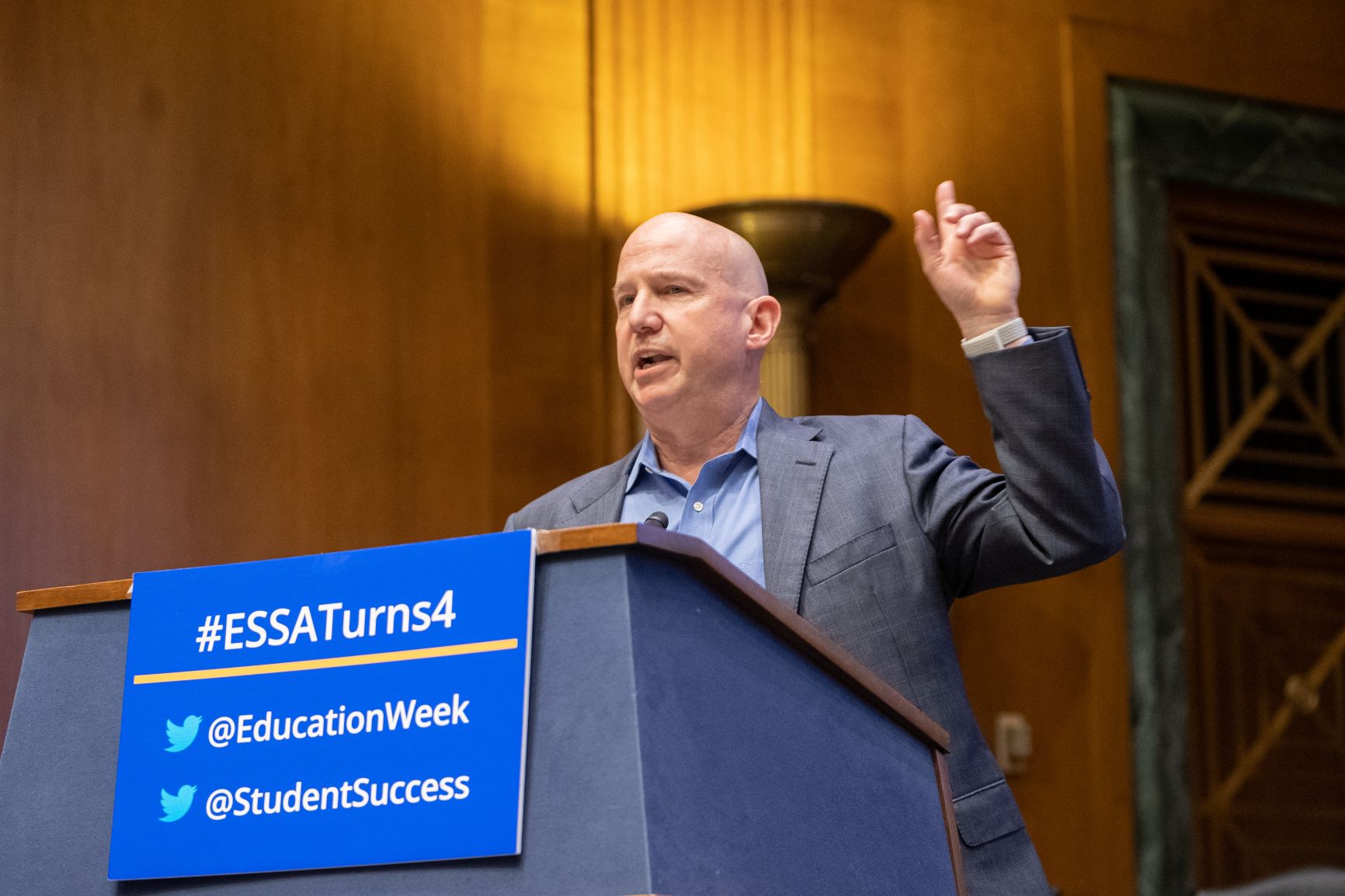 Closing remarks were delivered by Democratic Delaware Governor Jack Markell, who reiterated the point that ESSA is here to stay.
"We should all be pretty confident that fed ed policy won't be changing again anytime soon. That is really important, and a message we need to deliver to people in the states. Gives them the opportunity to double down on the things that are working well."
Markell also noted that we should "double down on high expectations."
See More Photos From ESSA Turns 4