December 5, 2016
Suggesting that states adopted high, comparable education standards because the federal government "made it very hard to say no," a video by the Daily Signal claims that since the Race to the Top program ended, "one by one, states have slowly dropped out."
That alleged mass movement away from higher standards, the video adds, was prompted by parents' concerns that more rigorous learning goals complicated math, created a one-size-fits-all approach to education, and took the fun out of learning.
A map in the video shows sixteen states that allegedly repealed and replaced their education standards. That representation, however, is inaccurate.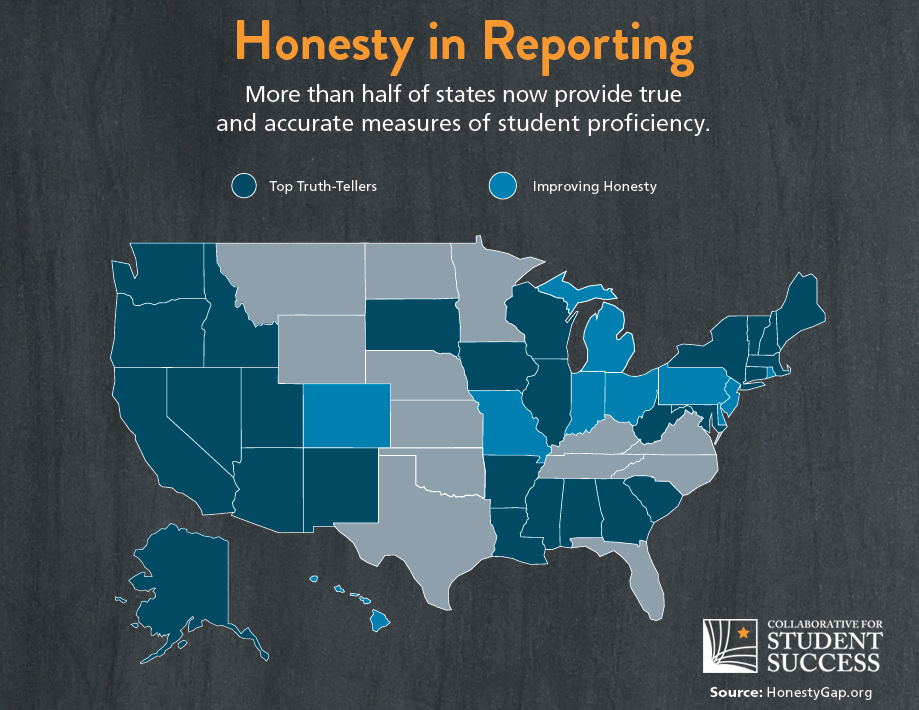 But our graphic above illustrates that overwhelmingly, states have redoubled their commitment to rigorous and comparable education standards. Many have and continue to make adjustments to meet students' needs – which is exactly how the Common Core was designed. The standards were always meant to set a floor, not a ceiling, on which states could build on further. And that's what most have done.
In fact, only one state that initially adopted the standards – Oklahoma – has replaced them with a set of demonstrably different learning goals. It proved to be a step in the wrong direction. As an independent analysis points out, Oklahoma's decision put the state's students at a disadvantage, and Oklahoma students will be less prepared to enter college or careers.
Indiana and South Carolina also replaced their education standards, but the resulting learning goals closely resembled those they replaced. In South Carolina, for example, the state's new standards were 89 percent aligned to those they replaced in English language arts, and 92 percent aligned in math.
Other states on the map that purportedly replaced their comparable standards remain firmly committed to higher standards. In Massachusetts, for example, State Education Commissioner Mitchell Chester clarified last year: "[The national media] inaccurately described Massachusetts as 'abandoning' the Common Core and PARCC. We have not abandoned either one."
In actuality, nearly all states are committed to raising academic expectations – which was always the purpose of the Common Core initiative. A Harvard study explains, "In short, the Common Core consortium has achieved one of its key policy objectives: the raising of state proficiency standards throughout much of the United States."
Most states are now beginning to see student performance increase as a result of that work. This year a majority of states made significant improvements in proficiency in math and reading. Some of the biggest gains were made by third-grade students, who have spent the bulk of their academic careers learning to meet higher standards.
"These findings send a clear message that it's a mistake to retreat from high standards or go back to low-quality tests," notes Hanna Skandera, New Mexico's secretary of education – especially as states implement the Every Student Succeeds Act.
Educators frequently point out that higher standards do not force children into a "one-size-fits-all" model of education, nor impede creativity and flexibility in the classroom. Changes to math instruction, for example, are helping students build a stronger skills base necessary to succeed at higher levels of learning.
Parents, too, strongly support education standards that fully prepare their children for college and careers. A full two-thirds of parents support high, comparable standards, no matter what labels are attached, according to an annual survey by Education Next.
By setting higher academic expectations, states have started on a path to improve student outcomes, and many are now beginning to see those efforts take root. As John White, Louisiana's state superintendent, explained last year, "States have adopted higher standards, states have tests that measure those standards and they're comparable, so there can be an honest baseline…That is a fantastic success for each state and for America and its children."