March 13, 2018
For Women's History Month we are honoring modern-day leaders within the public-school system whose contributions have helped shaped their community for the better.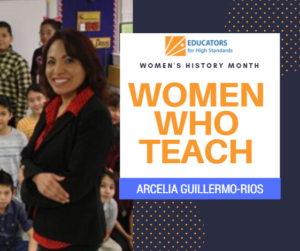 This week, we are celebrating fifth-grade dual-language teacher at Desert Trail Elementary School in Chaparral, N.M., Arcelia Guillermo-Rios.
Growing up homeless, Ms. Guillermo-Rios was committed to overcoming the hardships of her childhood. She said in a recent op-ed, "I could have easily fallen into the prescribed pathway for a kid in my circumstance, but I promised myself not to let that moment in time define who I was or hinder my opportunities for future success."
In sixth grade, Ms. Guillermo-Rios drew a picture of herself as a teacher. Now that she has accomplished that goal, she hopes to inspire her students to do the same.
"I make a conscious effort to get them excited about their future. A future that is filled with infinite possibilities at every turn and down every avenue they decide to embark, no matter the obstacles that come their way."
Ms. Guillermo-Rios is a leader within her school, profession, and community, and an inspiration to all of us at Educators for High Standards. Her story inspires so many of her students to not give up and keep chasing their dreams.
Ms. Guillermo embodies humility, strength, and passion in each interaction with her students and peers. That, in its purest form, is what makes an effective leader.