November 28, 2018
What do bubble wrap, light bulbs and Band-Aids all have in common? They were invented in New Jersey!
But you don't have to look at a history book for evidence of New Jersey's brain power—across the state New Jersey's students are making strong gains in English language arts (ELA) and math on their annual assessment in grades 3-8.
Several years ago, New Jersey raised its academic standards to better prepare its students for success in college and the changing workplace. It also adopted an annual assessment, aligned to these standards, to help parents, educators, students and policymakers understand which content students were mastering, and where they needed additional support.
In the four years since New Jersey adopted its new assessment, the number of students reaching proficiency increased an average of 7.8 percentage points in ELA and an average of 6.2 percentage points in math for students in grades 3-8.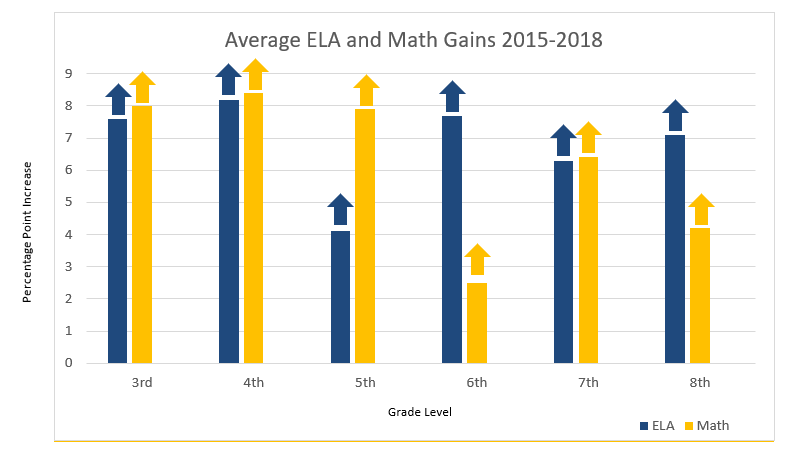 Of course, continuous gains do not happen accidentally—they're the result of the hard work and dedication of teachers across the Garden State. New Jersey's students have also benefitted from strong leadership at the state level that has prioritized consistency in standards and assessments, as well as support for New Jersey's educators as they align instruction to the standards.
High Standards & Aligned Curriculum
New Jersey adopted its higher standards in 2010 to raise the bar academically for students and better prepare them for success after high school. In 2016, New Jersey revised their ELA standards, based on feedback from parents and educators, to better reflect the needs of New Jersey's students, while overall maintaining consistent and rigorous goals.
New Jersey rolled out their standards over a three-year period to slowly familiarize districts and schools with the new standards before phasing in aligned curriculums by grade level and subject. The state Department of Education also collaborated with the New Jersey Principals Association to provide professional development to district and school leaders on the standards, how they connected to assessments and how data and standards could improve classroom instruction.
There is much work ahead to support all students, but there is strong evidence in states across the country that high standards are proving effective, and that states can benefit from doubling-down on implementing higher standards with fidelity. The Collaborative will be spotlighting these states in the coming weeks to show how success is trending in states across the country.