November 1, 2016
Six years after the majority of states adopted higher K-12 academic standards, new data suggest proficiency among students is improving.
Among the more than 40 states that have adopted and maintained high standards, the vast majority have seen proficiency rates improve.
Among third grade students – students whose entire academic careers have been guided by high standards – math scores increased by more than three percentage points. All but a handful of states saw improvements.
"Success in this economy requires a higher level of training and skill development than ever," Delaware's Gov. Jack Markell remarked in a press event on Tuesday with New Mexico's Secretary of Education, Hanna Skandera, and our Executive Director, Jim Cowen.
Markell underscored the importance of setting high expectations in order to improve student achievement: "When given the chance, our students can rise to the challenge."
Skandera agreed that improved achievement in her state was "a result of establishing a higher bar and our teachers and our students responding to that." She also emphasized that "giving tools to parents and teachers to support our students" was a key part of New Mexico's success with setting and implementing these higher expectations.
Both New Mexico and Delaware have seen impressive student achievement gains this past year. "We have 12,000 more students on grade level this year," Skandera noted. Delaware also saw marked improvements: across every district and nearly every grade level, more students reached proficiency in math and reading.
"There is much work left to be done to close achievement gaps," Jim Cowen observed, "but these results are noteworthy."
Most states aren't just improving their achievement rates — they're also getting more honest.
For the past 2 years, we have highlighted Honesty Gaps in an effort to hold states accountable for how they are communicating proficiency rates to the public. States have gotten more honest, sharing more transparent information with parents and educators about student achievement.
Skandera emphasized the importance of her state "getting honest about the gaps that we see," has helped improve student achievement.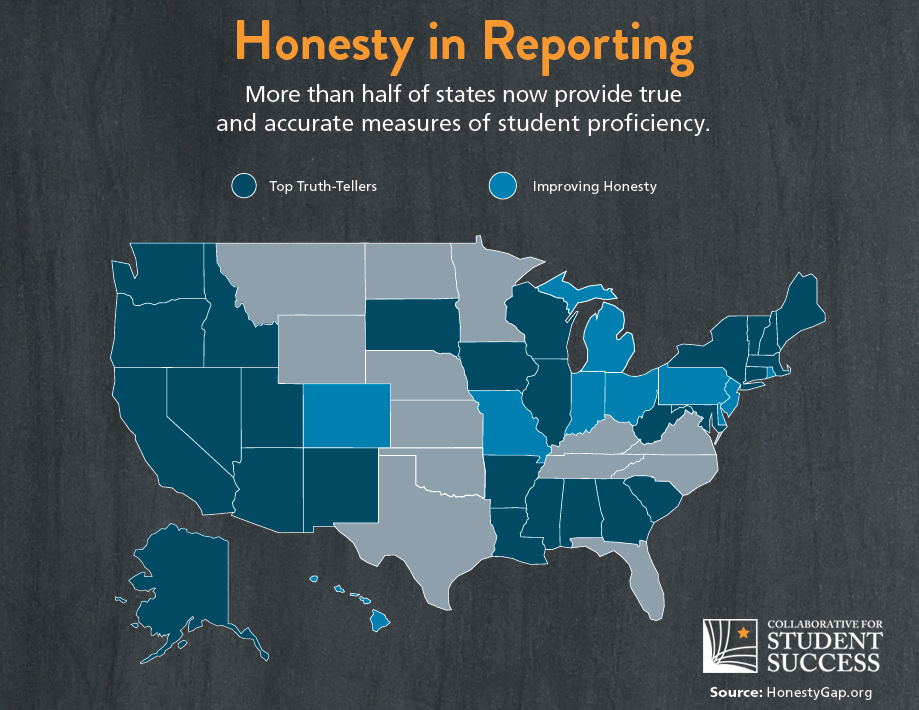 So what's next on the horizon for state education policy? Gov. Markell commented that while he, as a Governor, is happy that the Every Student Succeeds Act (ESSA) give states more flexibility, he cautioned that "with that flexibility, states have a responsibility to remain committed to the success of our students."
"Under ESSA, states have been given broad new authority over the steps they take to produce better outcomes. These findings send a clear message that it's a mistake to retreat from high standards or go back to low-quality tests." Skandera explained.
Check out this video to learn more about what's happening with student achievement across the country: